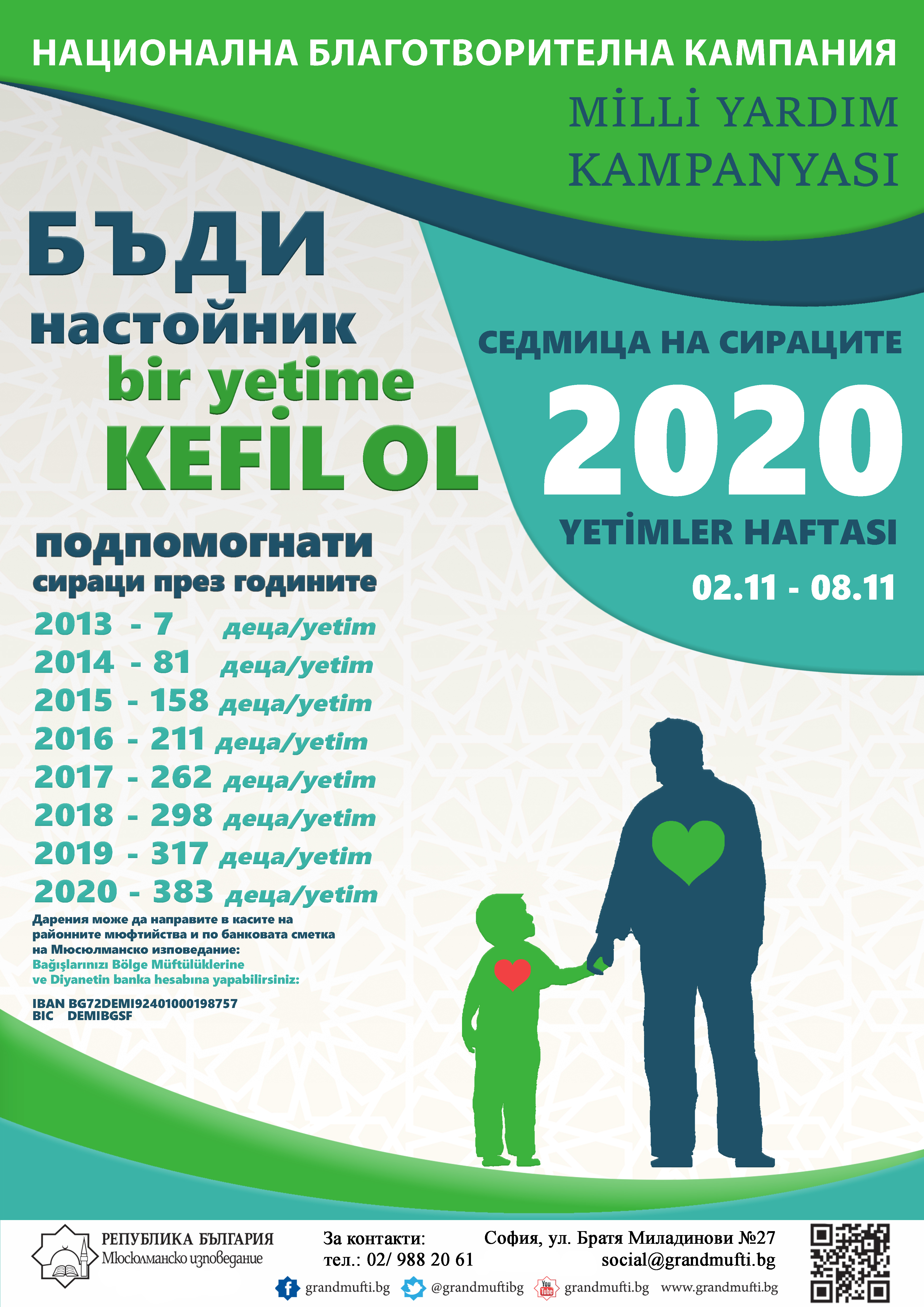 Grand Mufti's Office has officially announced the eighth consecutive edition of the national campaign "Orphans' Week". The social initiative will be held within the period from November 2 to 8, 2020 under the title "Be a Guardian!".
The work which supports orphans is a priority one for the social activities of the Muslim Denomination in our country. Since the beginning of the national campaign in 2013 till today the number of the orphans who receive a monthly aid, has become 383. Among the successes of the initiative is also the fact that since the beginning of 2019 the amount of the monthly aid, which each of these 383 children receives, was increased from 50 BGN to 60 BGN. In this way the social aid per year for a child from the Muslim Denomination in Bulgaria is the amount of 720 BGN.
 Like every year the greatest contribution to the fundraising for supporting the children without parents has exactly the National Campaign "Orphans' Week".
"During the last held "Orphans' Week campaign in 2019 in "Orphans' Fund" was raised the amount of 332 240 BGN, which is almost entirely from donations made in our country. For this purpose, through the regional mufti's offices in the country we disseminated information materials, as well as donation boxes." – said the expert from the Social Department Dzhfer Isov said.
"With every passing year the national initiative of the Muslim Denomination in support of the orphans is gaining more and more success. I do believe that this year's edition will also be held in this spirit. For example, we started in 2013 with providing support for only 7 orphaned children, and today their number is 383. The amount of the monthly received aid is also higher than before. Everything this is possible thanks to the active participation of the Muslims in the social initiative." – further added Isov.
He reminded that this year also, as usual, donations for the initiative will be made in the mosques at all 20 regional mufti's offices in the country, in the premises of the mufti's offices themselves, as well as through bank payments to the bank account of the Muslim Denomination.
"All raised funds are spent by the Muslim Denomination entirely for the orphaned children. For security reasons we ask the donors not to trust and not to give funds to third parties due to the danger of abuse." – Dzhefer Isof also appealed.
Donations through bank transfer within "Orphans' Week" 2020 can be made to:
Recipient: Muslim Denomination
Name of the recipient bank: Commerce D Bank - Dobrich
IBAN: BG72DEMI92401000198757
BIC: DEMIBGSF
As the reason for the transfer should be cited "Donation for orphans".
A list of the raised during the last year's campaign funds can be found HERE.
For contact and more information about the campaign:
Grand Mufti's Office – Social Department
Sofia, 27 Bratya Miladinovi Str.
E-mail:   This email address is being protected from spambots. You need JavaScript enabled to view it.  /  This email address is being protected from spambots. You need JavaScript enabled to view it.
Phone number: 0894996913